News, Updates, Misc. Information

USS Kadashan Bay Association

Please email with suggestion, items that need to be posted or if you have photos to add to collection.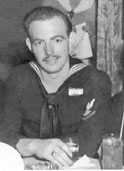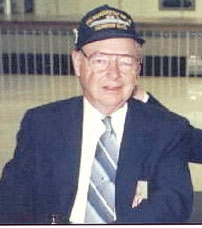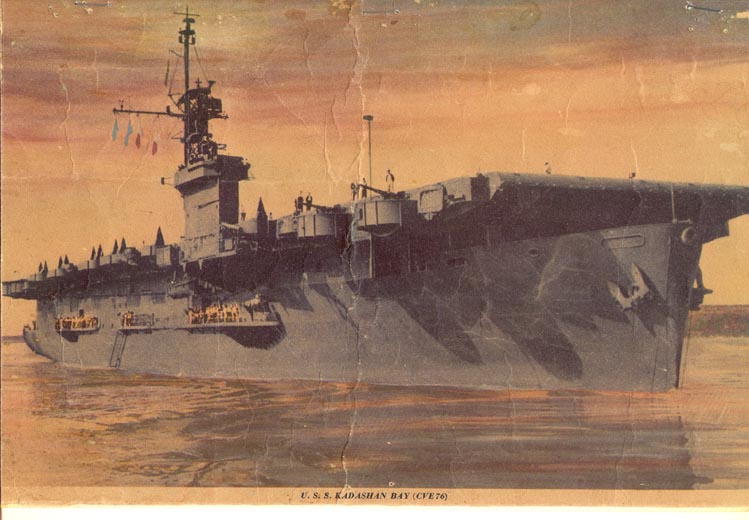 This page was last updated on: 26 April, 2007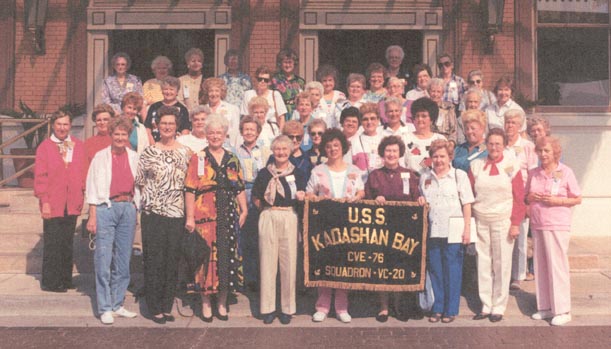 1991                       Reunion photos of the "BETTER HALVES!"                         1992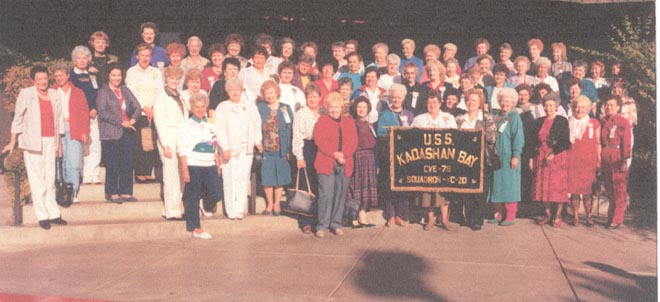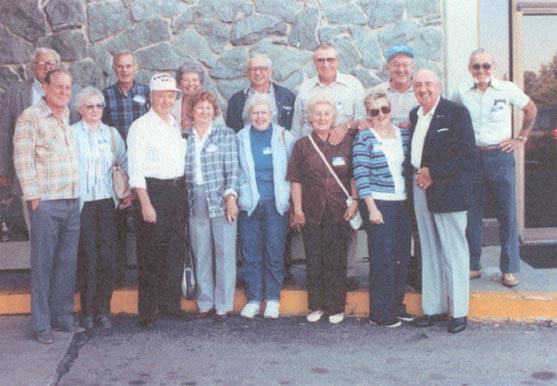 Omaha Organizational Meeting

Front: Richard Tyler,Dorothy Tyler,Zack Zink,Norma Zink, Betty Morehead, Ethel McNear, Jean Wizik.Ben Begley.

Back: Hugh McMaster, Fred Nye, Doris Begley, Bill Morehead, Vernon McNear, Charlie Bolduc.

Please scroll down for early reunion photos

News Letter is under construction to updated with next quarterly letter.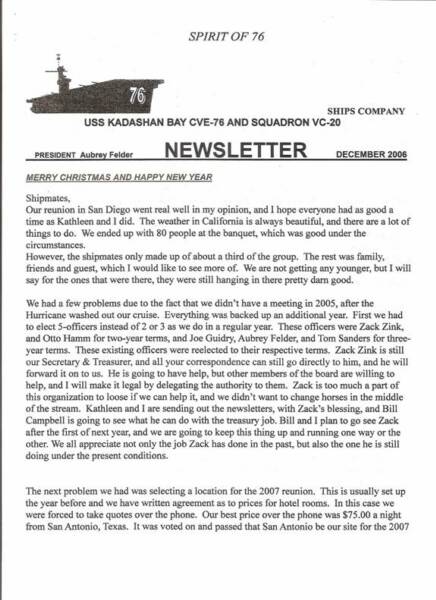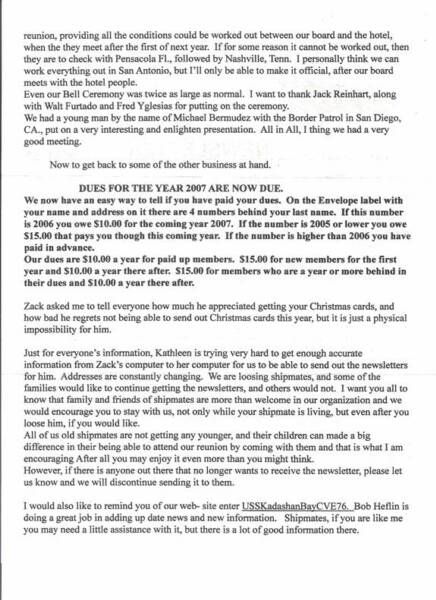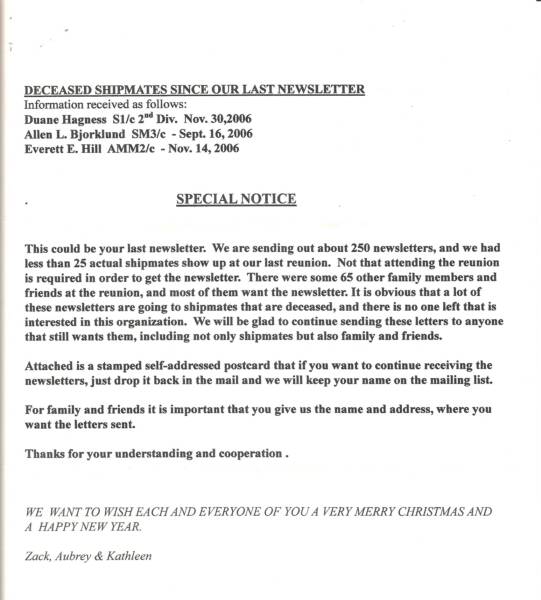 Subj: ZACK 2007 

Date: 1/18/2007 2:08:29 PM Central Standard Time

From: zzzinkcve76@clarkston.com

OLD ZACK PROBLEMS

In late July 2006 I got sick, Norma took me to the Hospital, they said I had a mini stroke. Then I was ok, no problems. Then 3 or 4 days later I had a bad Stroke. It was bed time, I was taking off my clothes when it hit. I crawled  to the phone, called 911 and they got me to the Hospital in  time. I was in the Hospital a week and do not remember  it. They took me to Clarkston Care Center, that is the first that I remember. It was a nice place, I could not believe how clean it was and a lot of help. Nothing like the old days I remember. They took me to Therapy in a wheel chair, the first week was slow then I got better. Worked out using a walker. When I could use the walker they let me go to Norma's house. This was 2 months after the Stroke. Norma and Shipmate Robert (Bob) Adams RM 2/c came to see me every day while I was in the home, I sure appreciated it.

At Norma's house I walked the sidewalks with the walker, then walked with a cane and got so I could go with out it. I was shaky and wondered like I was drunk, and still do today but not so bad. That still leaves my right arm and hand. About all I can write is my name and that is not good.

I wanted to go to the Ship Reunion, which was on the last of Oct. and the first of Nov.. The stroke sure came at a bad time of the year for the Reunion. I had most of the things and information for the reunion and I could do nothing much to help. I did not know if I could even go. President Aubrey Felder said he would go ahead with the reunion and I would help all I can. I sent them some things and we talked on the phone and e-mail some information. I had planned to take a lot of things in my car to the reunion but this could not be done now. This was a big undertaken for Aubrey and wife Kathleen and I want to thank them for a job well done.

I made reservations for Norma and I to fly to the reunion, not known if we could make it but we did go to the reunion. I could not have gone if Norma had not gone. When we got there I met with the Board and told them that I planned to resign from being Secretary and Treasurer and maybe the Board. The board members called me in some time later and asked me to stay on the job, that they would delegate some one to do the job of Secretary and Treasurer. Aubrey said he and Kathleen would do the Secretary and Everett Campbell would do the Treasurer job, that I would forward the information to Everett. I thought and agreed. I hated to give up this job after so many years, but with my health I could not do it.

When we got home I began taking Therapy again, and am still taking it. It seems I am getting a little better all the time, though it is slow. My right arm and hand are much stronger though there is some tingling in them. It is my fingers and thumb that I am having the most trouble with. I have a hard time writing. I do all my e-mail with my left hand and it is slow. I made out the 2006 Tr. Report, it should be in this newsletter.

I have decided to keep the Treasurer job for now, anyway, my health is better and it would be about as much work to forward work on. So I am still your Treasurer. Your 2007 DUES are DUE send them to Zack Zink, 530 5th St., Clarkston, WA. Phone 509-758-2654 or Norma's 509-758-6253

Aubrey and Kathleen are Secretary, they are doing a good job.

OLD ZACK

Note; Thanks for all the Christmas Cards, I enjoyed them.  Sorry I sent none, hope next year.

This is an email from Zack in Jan. He emailed me recently and I think he is doing better. Everyone keep him and Norma in your prayers. Bob